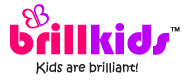 As a member of the
BrillKids
Blog Team, I was recently given the opportunity to review their
Little Readers Program
. I was able to review the online program of Little Readers.
So what is Little Reader? It is a program that teaches your child to read at an early age.
At first I was a little hesitant that I could get my 1 year old daughter to sit down for about 10 minutes at a time to go over the lessons. The first day I was able to get her attention for about 5 minutes, but the next day and everyday after she sits down for the whole lesson. We do one lesson a day. Little Reader keeps the child engaged because it's constantly changing to a different word or picture. It also makes sounds, for instance if the word is dog, a dog may bark. After 3 days Kiley was repeating the word dog and was barking like a dog and now does it all the time. As a former educator, I really like this product a lot. It's very user friendly, the lessons are short, but very informative. You can even customize the pictures in the lesson to your child's face, or even you own pets.
My favorite part of the lesson is that every time the child is taught a word, he or she not only sees the word in a different color or font, but she also sees a dog and hears a different voice and sees a different picture. I like this because she isn't looking at the same picture over, and over, or hearing the same voice over and over. I feel it really helps keep her into the program.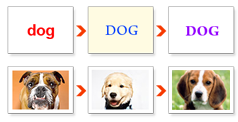 The program comes with a 12 month lesson plan. You can also use the BrillKids forum and download more content to your lesson plans. There are two different programs you can
purchase
from BrillKids. The first version retails for $250.00 and includes the Little Reader software, pattern phonics flash cards, 1 year program of the English Curriculum program, starter flap card kit, The Little Reader storybook series, which includes 25 books, weekly lesson plans, Teaching Your Baby To Read Booklet, 6,000 Loyalty Bonus Points, Teaching with Little Reader booklet, sticker labels for playing the labeling game. Little Reader Basic retails for $149 and includes, The Little Reader software, 1 year program of the English Curriculum, Teaching Your Baby To Read booklet, and the Teaching With Little Reader Booklet.
You can start the Little Reader program in between 3-6 months or you can wait till your child is 1 or 2. So why teach your child to read so young? Well there are many benefits.
One of them is that children who teach reading before formal schooling starts are seen to have higher self-esteem and confidence levels, than those who had parents who didn't encourage early reading. Children are also more likely to be more successful in school activities and want to learn more eagerly.
Remember keep your lessons fun and exciting and it will keep your child engaged! Kiley likes this program so much that every time she sees the computer she waits for me to turn Little Reader on!
I was provided this product in exchange for my honest, unbiased opinion. I was not paid for the review, nor required to write a positive review.