I recently purchased the Fiber One Complete Pancake Mix. I have been wanting to try it since I bought it, but just haven't had the chance. On Tuesday night, I met Chris after he was done work and we played 9 holes of golf. We didn't get home till close to 8 p.m., so we wanted something quick and easy to make. Chris opted for a BLT, but I decided to make a peanut butter waffle!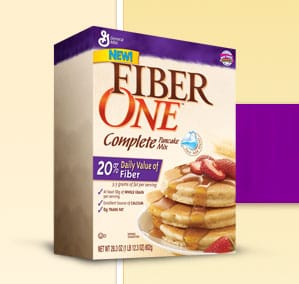 We typically use Bisquick. I honestly couldn't taste a difference between the two, besides the fact there's a lot more fiber and it's a bit more calorie friendly! The box tells you that if you use it for a pancake mix, it they maybe thin, but I couldn't tell any difference with a waffle, they were the same size and consistency as a regular mix.
The mix has 20% of your daily fiber needed. For 1/2 cup of mix, which is about 3
pancakes
, it is only 180 calories! For two waffles it's 280 calories. I will definitely by this again when this box runs out!