This day we decided to head to the South Points of the Island and then shoot over to the volcano. Driving through the south point it's turns really green and hilly. A lot of this area is the flank of Mauna Loa. We passed lots, and lots, and lots of macadamia nut trees. If you didn't know mac nuts are very bad for dogs, they actually calls paralysis in a lot of speices. There were a lot of bays to stop at here, but we really wanted to get to the volcano. We stopped for gas in HOVE(Hawaiian Ocean View Estates), I bet you are thinking wow that sounds nice and are picturing these huge houses sitting on the ocean. Well guess again, it's nothing like that at all. In fact half of the houses you can't see the ocean from and most of them were shacks. There is about 11,000 one acre lots, the orignal lots sold of $995 and today you can buy a lot for $1500. They only use party lines and just recently got electricity. There is no school either. But the reason I said we stopped for gas was because of the people, wow is all I can say. They were of a different breed. It was the most red-neck town I've ever seen. People with no shoes, not shaven for years, beat up trucks, no shirts. It was a whole different world. I truely believe that families reprodcue with one another. exist here I'm sure of it, everyone board that I've read on Hawaii and book says that this are is largest repository from the federal witness protection program. Anyways after gas, we headed to South Point. This is the southern most part of the entire nation. A lot of people claim the Florida Keys are, but they aren't. This road is one lane but it's paved and in good condition for the most part. On this road you pass many, many horses, cows and farm. You also pass the Komoa Wind Farm, which is now the Pakini Nui Wind Project. The winds here were a little much, but it's because of the trade winds being deflected by the northeast. The waters here were BLUE as BLUE gets, it was amazing and beautiful. It's a HUGE fishing area. One fisherman was there and was telling Chris how they hook the fish and it was quite interesting. In this pic you will see a fisherman and his lines, if they catch something they bring their trucks to help pull it up:
There was a cliff here that you could jump off of and there was a guy doing it. There is an old metal ladder that you can climb up after you jump. Chris really wanted to do and tried to get me to talk him into doing it, but there was no way I was going to be ok with that. He made the right choice and didn't do it! Some pics: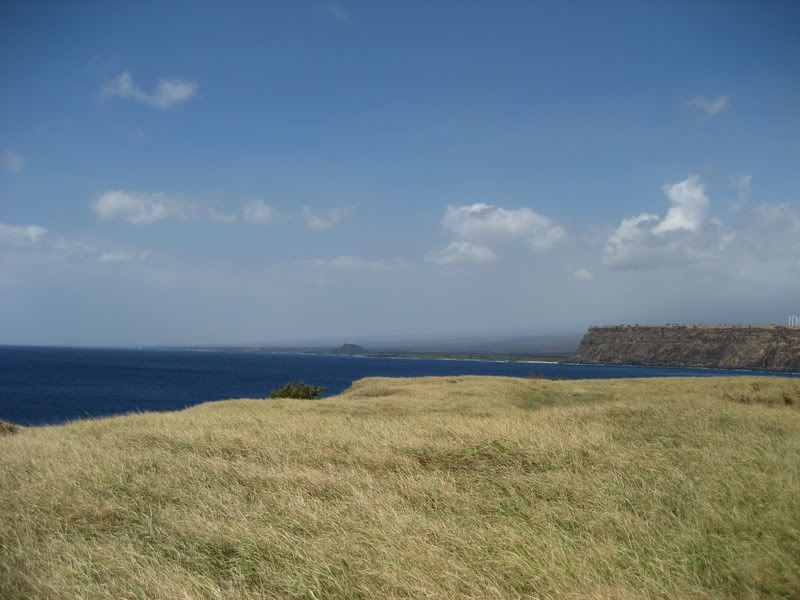 After this we stopped for lunch at Hana Hou Bakery. It was a true Hawaiian place as well. You had to go outside to use the bathroom(they were indoors though).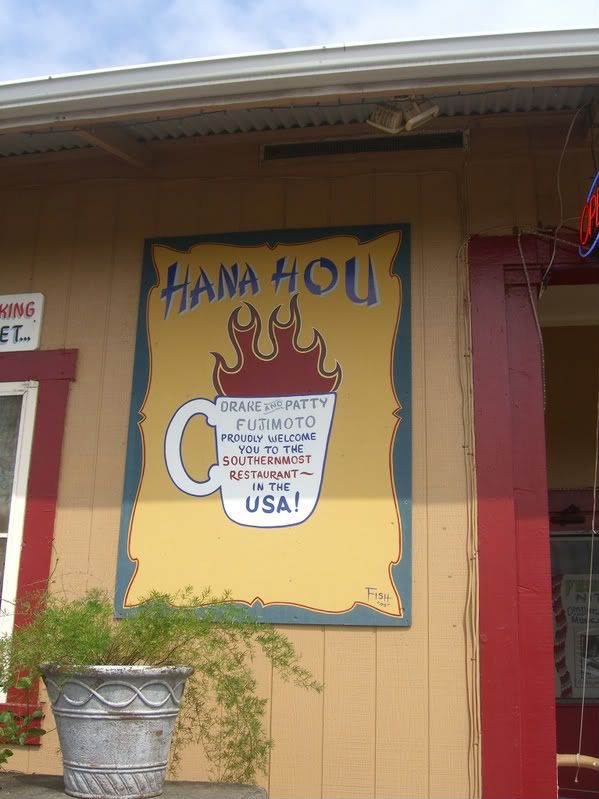 Next we headed for the Kilauea Volcano. We headed into the Hawai'i Volcanoes National Park. First we stopped at the Jaggar Museum and snapped these pics: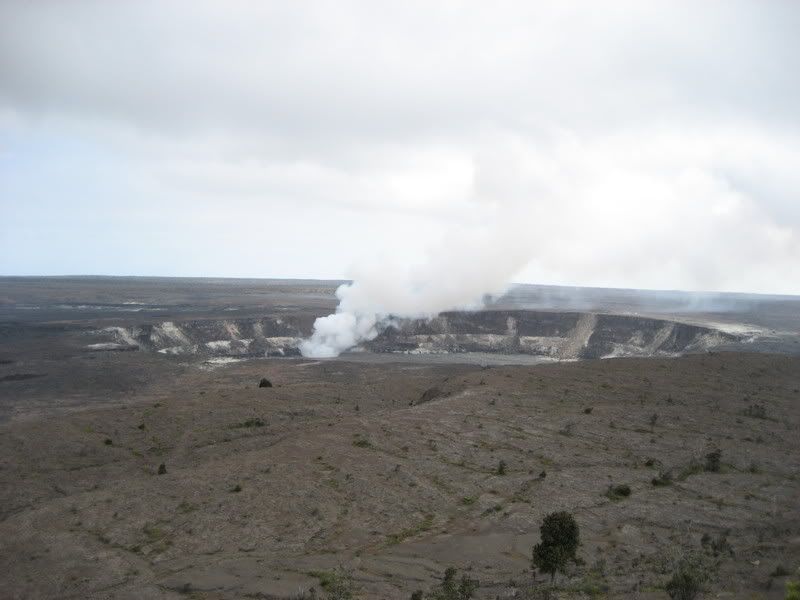 After this we went to the steam vents: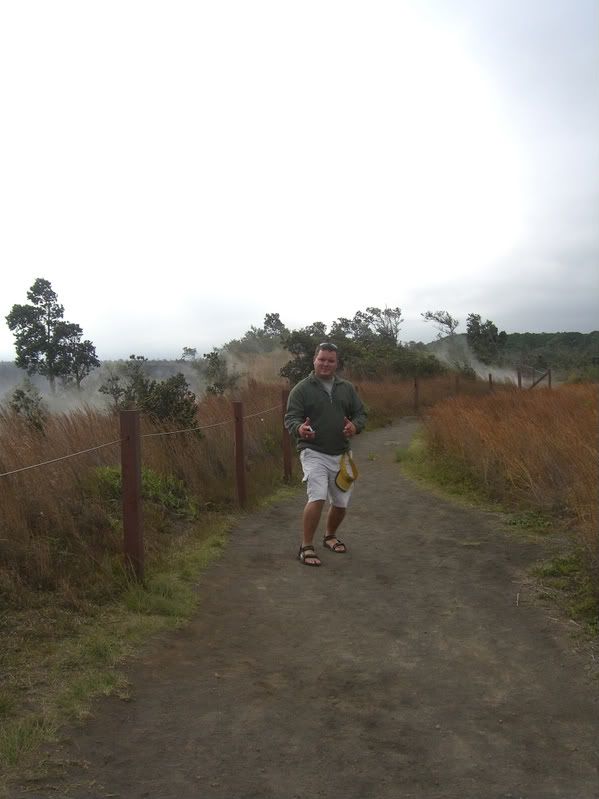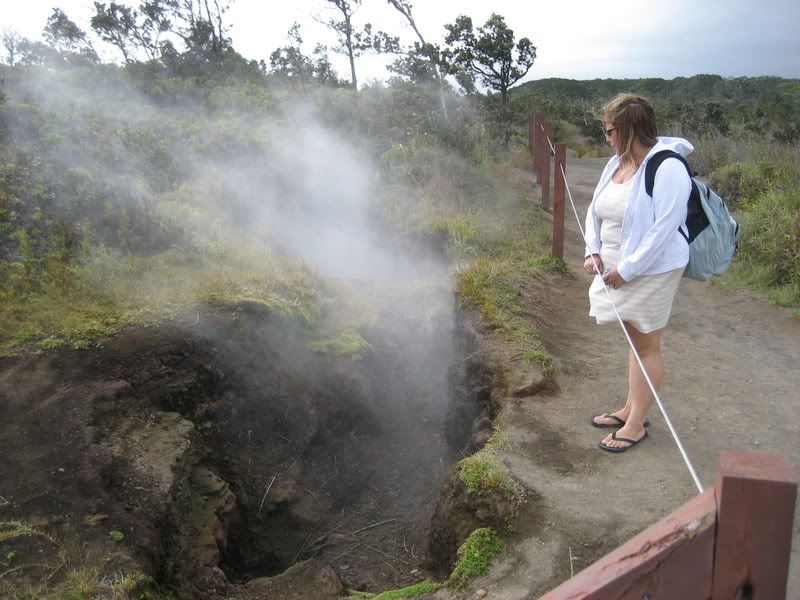 After this we went and saw Halema'uma'u Crater. Then we stopped at the Thurston Lava Tube. This was neat, you actually get to walk to into and through the lava tube. It is lighted halfway, then if you want to go further you can. You need to take flash lights with you. Chris really wanted to go on the "dark side" but I was really scared, think about it a dark lava tube cave, but I did it anyways, there was a little girl and her father and she wasn't afraid so I figured I'd better go a little bit. So we did it was ok, couldn't see much cause it was pitch black.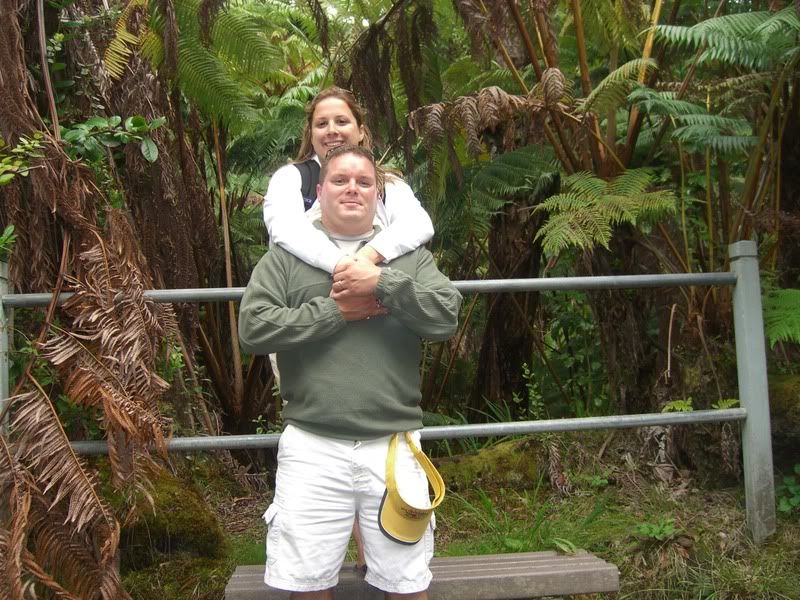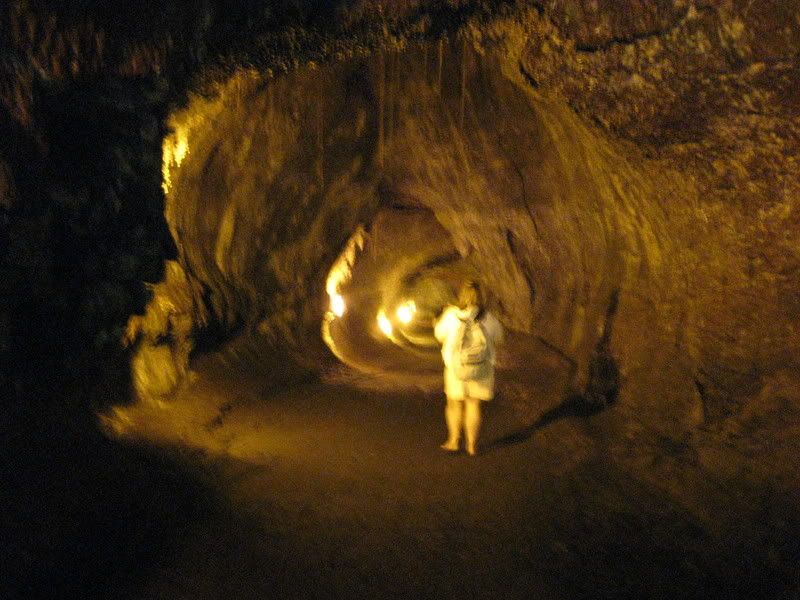 We wanted to go see the lava flowing but we didn't have time because we had dinner reservations at the Volcano House, so instead we went another night. At the volcano house they have a whole glass window and you are right in front of the crater, so we got some awesome pics.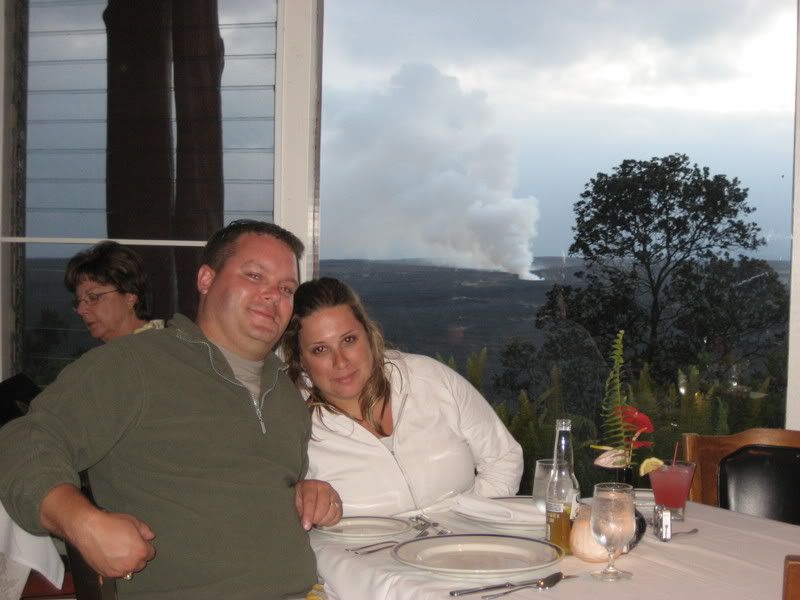 Day 7 Coming Soon!